Posted by Gun Storage Solutions on Aug 12, 2020
Ryan Gresham of Guns and Gear: "You know your gun safe is not as organized as it could be, or should be! Well, we thought we'd bring in the experts from Gun Storage Solutions to help us out! Come on in, Katie!"
Katie Stephy of Gun Storage Solutions: "All right, what do you think of this situation? I see you's got a great collection of guns and I'm sure you're very proud of what's in here.

Ryan: I know you hear from customers. Their gun safes probably look something like this - stuffed in here, stuffed in there. Now, what do they find? What do they ask for from you?
Gun Storage Solutions Helps You Fit More Guns in Your Gun Safe
Katie: A lot of people want more guns to fit in their gun safe, that's Number One. Number two, they want better organization. So, for you, what would you like to change about the interior of your gun safe?
Ryan: Certainly being able to fit more guns is great. Also, the guns are kind of piled in here and I know there's potential for scratching. They're touching, and I feel that.
Gun Safe Accessories That Help Protect Your Gun Collection
Katie: Yes, right. Can you get to the gun in the back if you wanted to? You know, like that one in the back corner?
Ryan:I don't even know what it is, I probably, I probably have to pull out like eight or nine guns to get to it, I haven't seen it in a few years now. I just leave it in the back.
Katie: Yeah, absolutely. I mean, you want to get at guns somewhere where they're locked and they're secure. Our products are patented, they can fit more guns in your gun safe, keep everything organized, and easier to access. So we'd love to get you set up.
Ryan: Okay, I'm glad you guys are here. Let's get organized!
Katie: Let's do it! Let's get organized!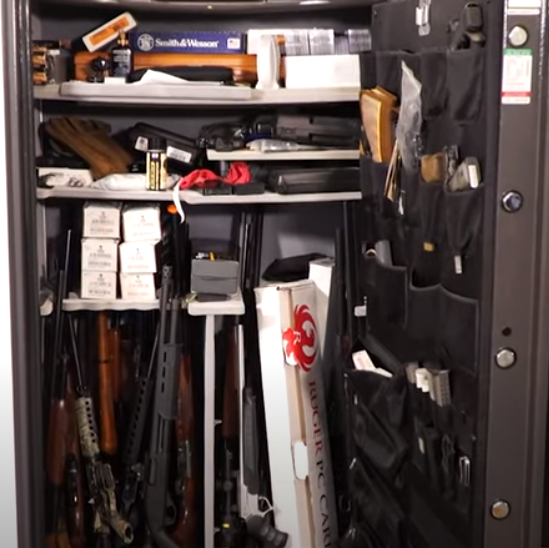 Ryan Gresham's Gun Safe Before Gun Storage Solutions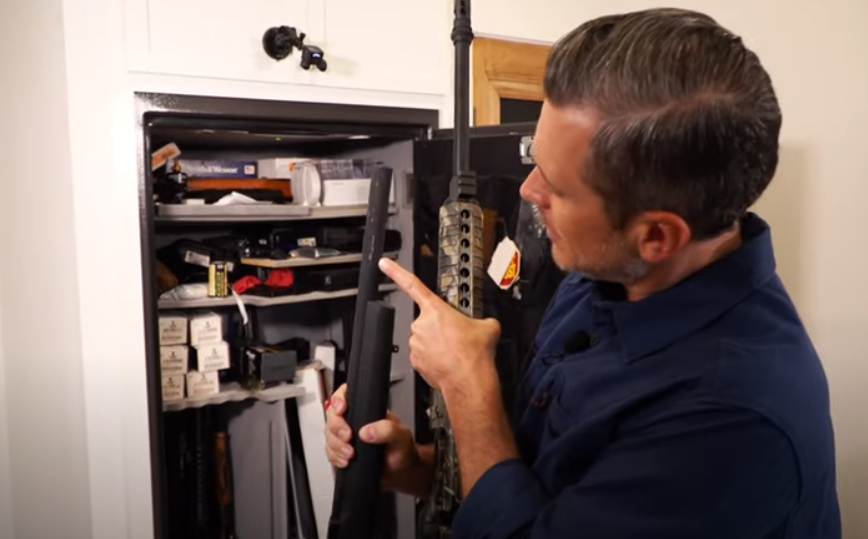 This is a brand new gun - all scratched up. Haven't even shot it yet.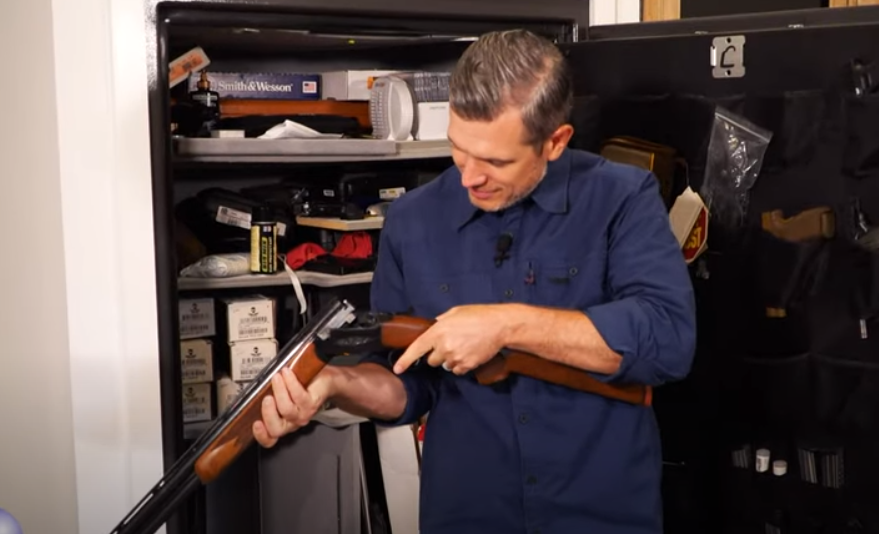 This is the one that was in the back. What is this? I forgot I had it!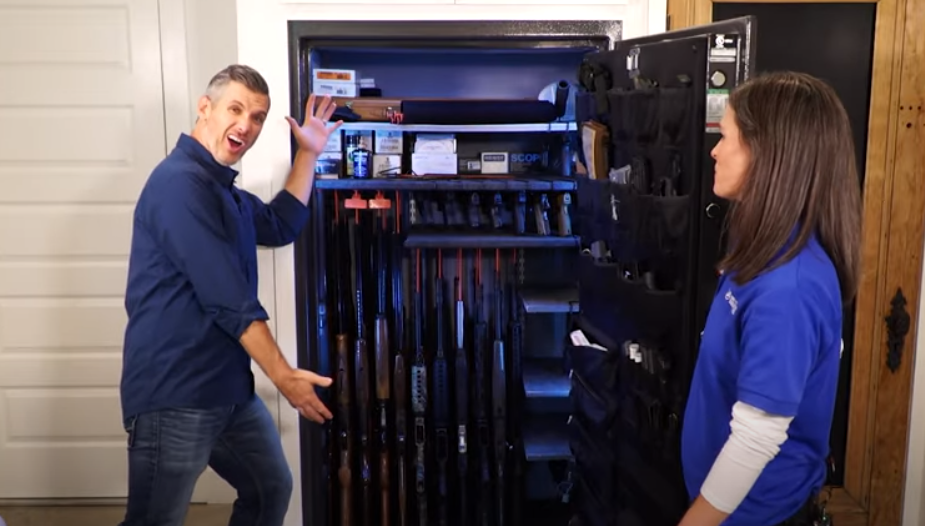 Ryan Gresham's Gun Safe After Gun Storage Solutions
Rifle Rods Let You Store Long Guns and Tactical Guns Like AR-15s
Ryan: My new organized gun safe. Oh, this is incredible. Katie, you guys got all the guns, back in here, these are the same guns, but now I've got extra shelving is just crazy. So, walk me through this isn't a service you provide but you actually provide all of these products that make it a really easy DIY. Right, what do we use here all right? We used the rifle rods.
Handgun Hangers Free up Space on Your Gun Safe Shelves
Katie: Yeah, those are the products holding up the long guns. Then here are handgun hangers are hanging guns underneath the shelf. And you can see we've got some that go above and below the shelf. And then our magazine rack, the mag minder here.

What's neat about the rifle rods is you can kind of see what we did here is if you're a trap shooter you have a bunch of long guns, you can have this long space, but then you can actually drop down, have a shelf here. What we kind of did here is, customize this, where you can have the shelf here for your shorter guns.
Mag Minders Let You Organize and Store Your Gun Magazines
I mean, it will allow you to store more guns in the same gun safe, depending on what you have in your safe. And that's what we did with the rifle rods. It's a versatile product.

Ryan: I know people have all different kinds of guns. So, this will make it work for whatever your gun collection is like, whatever your gun safe is like.
Katie: It adapts to the shelves, and to your own gun safe. And if you want to buy more guns. Now, you can. Just take those skinny little shelves out that we put in there. I mean that's extra storage for now they're great but I have a feeling you may want to get some more guns on another one or two so you can just remove those or cut them a little bit shorter. if you still want that shelf then it'll kind of allow flexibility with what you have.
Ryan: What do you think we'll hang tags here?

Katie: So, a lot of people were saying they wanted a way to ID their guns. So those are ID tags and they just clip to the top of the rifle rod here. So if you're looking back in the back row and I'm sure we can just label everything in a standard address label fit right onto that tag.
Ryan: Well speaking of the back row, you asked me about guns in the back that I haven't even seen a year right now if I want to get into a gun in the back. All I have to do is take out one gun, take out a second gun, without banging them on each other right and now I can reach that gun so much easier
Katie: So much easier. Accessibility is definitely a huge benefit of the rifle rods.
Gun Safe Lighting Let's You See Into Your Dark Gun Safe
Ryan: Yeah, I love being able to get the stuff at the back very easily. And you guys added lights here right?

Katie: Right we added the lights and that actually, a lot of times, the lights are just at the ceiling so you don't get a very good view of what's underneath your shelving. And it's all motion activated so as soon as you open the door, you'll be able to see what you got in there.
Ryan: It's bright, being able to see into this dark cave. Absolutely. Gun storage solutions, a bunch of different products. If you want to customize your safe fit more guns in your safe.